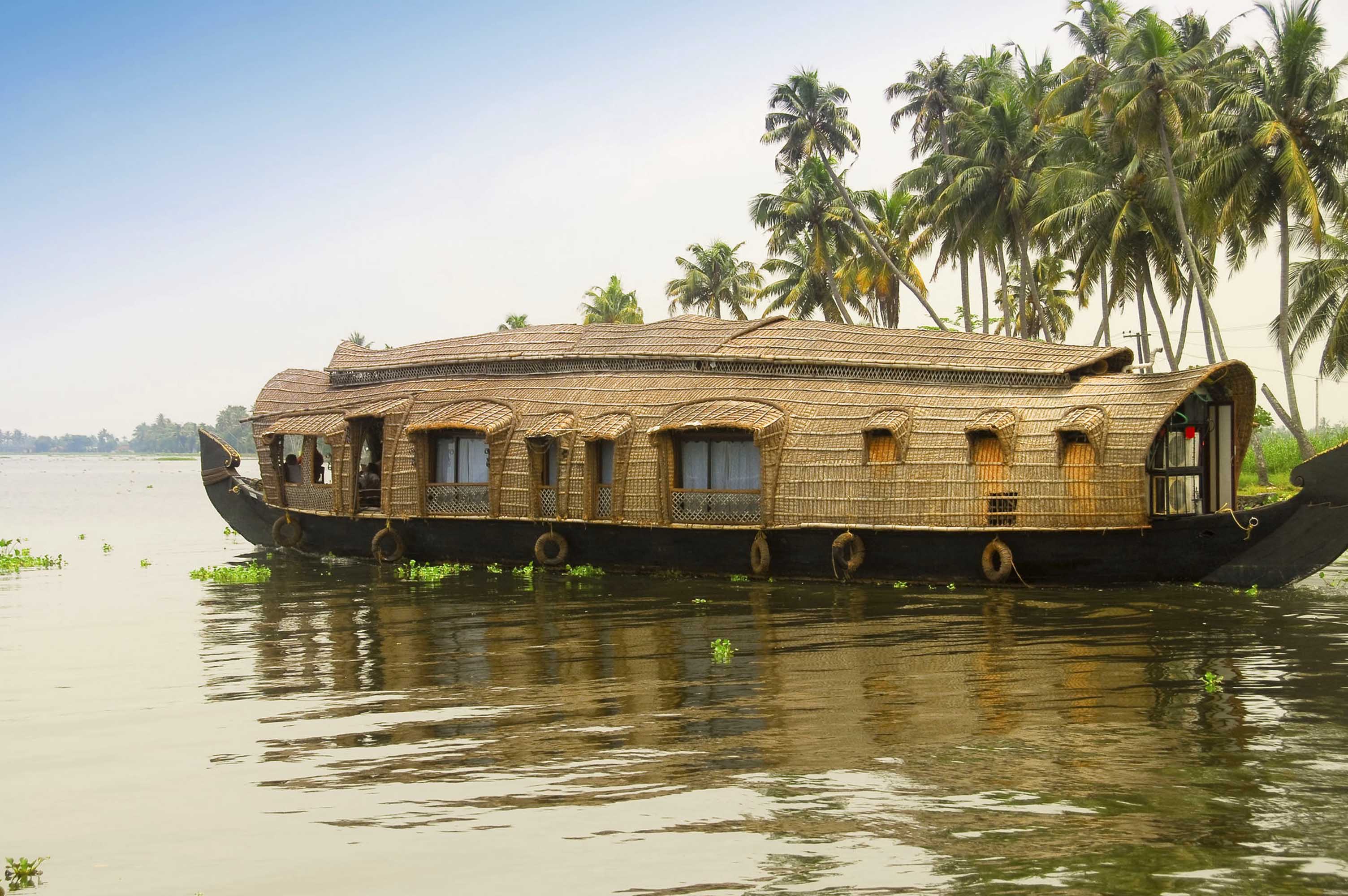 Kerala Houseboat
Houseboat is usually found in alleppey district of kerala.The name Kerala houseboat is originated from the malayalam word 'Kettuvallam'. Basically, the houseboat in alleppey is a floating house with all normal living conditions Such as A/C bedroom, attached bathrooms, living area with balcony and kitchen. We have 1 bedroom to 11 bedroom independent boats available and a total of 1200 alleppey boathouse operating under private ownership with certified government license. No government owned boats are available here, all these licensed boats include safety items like life jackets, fire extinguishes and first aid boxes.Normally, a 1 bedroom houseboat is provided for 2 persons and a maximum of 4 persons can also be provided with extra beds available on the boat.The Package includes all the meals like welcome drink, lunch, tea and snacks, dinner, breakfast
DELUXE HOUSEBOAT
Deluxe houseboats in Alleppey are an affordable alternative to enjoy the waters of Alleppey with basic amenities. They are furnished with a living area, A/C bedrooms (9PM – 6PM), attached bathrooms, observation decks, and kitchens.
PREMIUM HOUSEBOATS
Enjoy a premium boathouse experience with fine dining and A/C functioning in the complete houseboat with 2 Non Veg menu.
LUXURY HOUSEBOATS
Luxurious 3 Non Veg menu, ambience not less than a 5 star resort will leave you stunned in every corner of the luxury boathouse.

`
Why Choose our Houseboat
Quality Services
Delicious Food
Nature View Route
Clean Rooms
High Customer Satisfaction
Well Trained Crew Members
24x7 Customer Support
All Types of Houseboats
FAQ
Fusce hic augue velit wisi quibusdam pariatur, iusto primis, nec nemo, rutrum. Vestibulum cumque laudantium. Sit ornare mollitia tenetur, aptent.
Alleppey tourism development co operative society private limited ( A T D C)
Every houseboats how to comply some formalities such as registration number, registration name and also to indicate the emergency calling number when there is necessary, safety equipments, daily log books etc...
Life jackets, fire extinguisher, emergency contact numbers, g p s, first aid kit.
As per survey of district tourism promotion council (dtpc) around 1200 houseboats are in operation. But out of this only 800 are licensed
Since the houseboats are unlicensed they have no insurance coverage and hence the passangers will not get any compensation more over the amenities, facilities, services etc.. Will be very poor